I needed to work on a problem with Outlook for Mac not being able to sustain connection to on-premise Exchange 2013 server. Being used to the install process on PC, I headed over to my Office365 login via outlook.office365.com. Upon logging in, I clicked on "Office 365" and then clicked "On a PC or Mac: Install" option: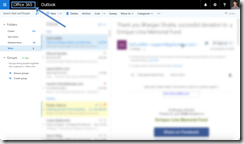 Note: You need Office subscription that includes full Office install in order to see "install" option I mentioned above.
I was then presented with the page allowing me to manage my existing installs and offer install of Office 2016 for Mac: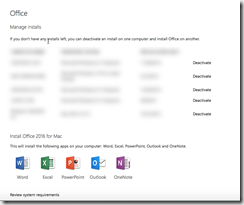 Looking at the apps it offered to install for me, I noticed that Lync or Skype for Business client was not an option. Compared to what I would see on a PC: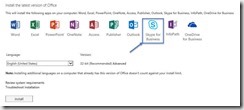 To install Lync client for Mac, you need to click "Skype for Business" on the left navigation bar. Since Skype for Business client for Mac isn't available yet, despite the label "Skype for Business", you will notice that it is offering to install Lync for Mac 2011. This is expected and I would assume it will change to Skype for Business for Mac when released.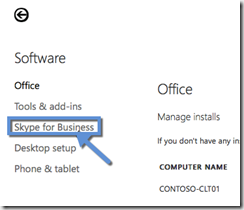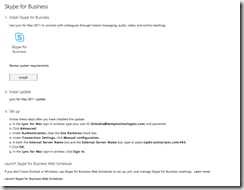 There you go, if you are like me, a Mac novice, and are trying to install Office/Lync/Skype for Business client from Office 365, hopefully this post will come in handy. Cheers!