Disclaimer: Logitech kindly provided Zone Wired and Wireless headsets for review contained in this article. Besides review units, I have not accepted any monetary compensation from Logitech, neither am I bound to provide any favorable reviews of the device. This review contains my unbiased views after I thoroughly tested the devices against my daily drivers that I have purchased on my own.
Working from home has become a norm lately for majority of information worker community regardless of the industry they work in after the onset of Pandemic in March 2020.
As more people work remotely, communications platforms such as Microsoft Teams have become important to carry out conversations and get work done.
And when communicating remotely, clear communications are just as important, especially in distracting environments such as my small household with my wife and kids also working and schooling from home, sharing whatever usable space we have, to get through our days.
As you can imagine, distractions abound in such environments. Using microphones built in your laptop or webcam can allow you to carry on your meetings every day, but what if your kids are on the video call for their schoolwork? What if you have a lot of background noise? Or even in open office environment where you're close enough to your colleagues that their conversations can spill over into your microphone?
In April 2020, Microsoft announced new Teams certified devices, including new Teams headsets that meet specific quality requirements such as premium microphone for open office.
Logitech was kind to provide me with their new Zone Wired and Zone Wireless headsets for testing. I'm happy to provide my unbiased view here for your reading.
Out of the box experience and build Quality
For any user, when they receive their communications headset, either purchased on their own or provided by their employer, it can't be assumed that everyone is an expert dealing with technology. Of all devices, a headset should be a straightforward setup out of the box. Logitech didn't disappoint here. Plug and play experience has been a requirement for all Microsoft certified devices, and Logitech certainly worked without any fuss right after plugging them in.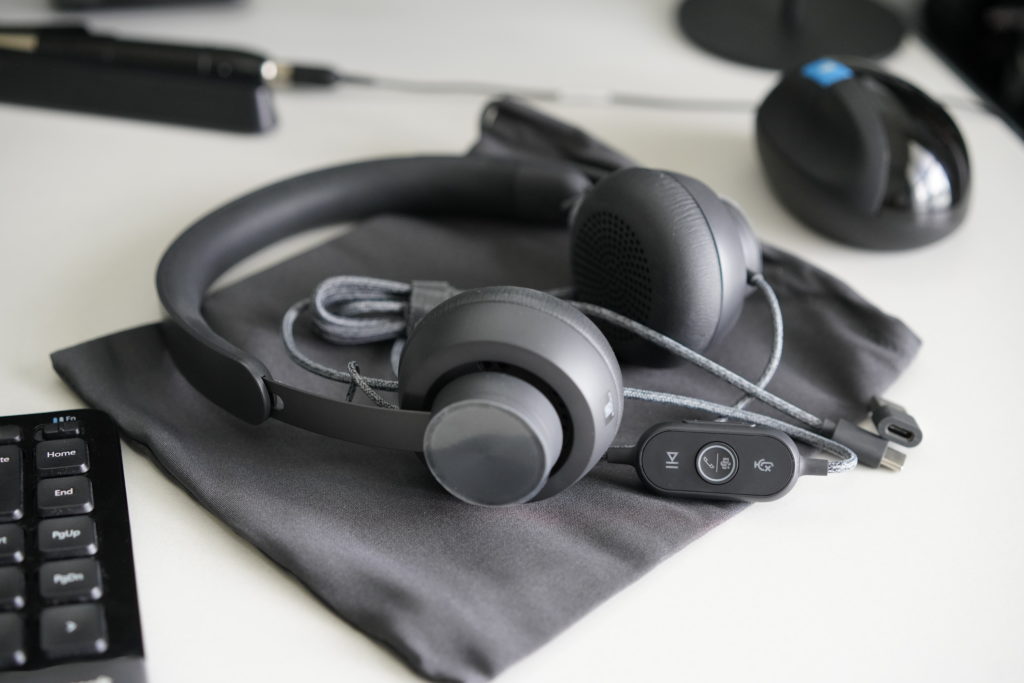 I also loved how plush the cushions felt for both wired and wireless version, with diameter of wireless a tiny bit more than the wired version, making it even more comfortable to wear for longer days. The braided cables on wired headset is a nice touch keeping cables from getting tangled, making them easy to carry, all the while looking great!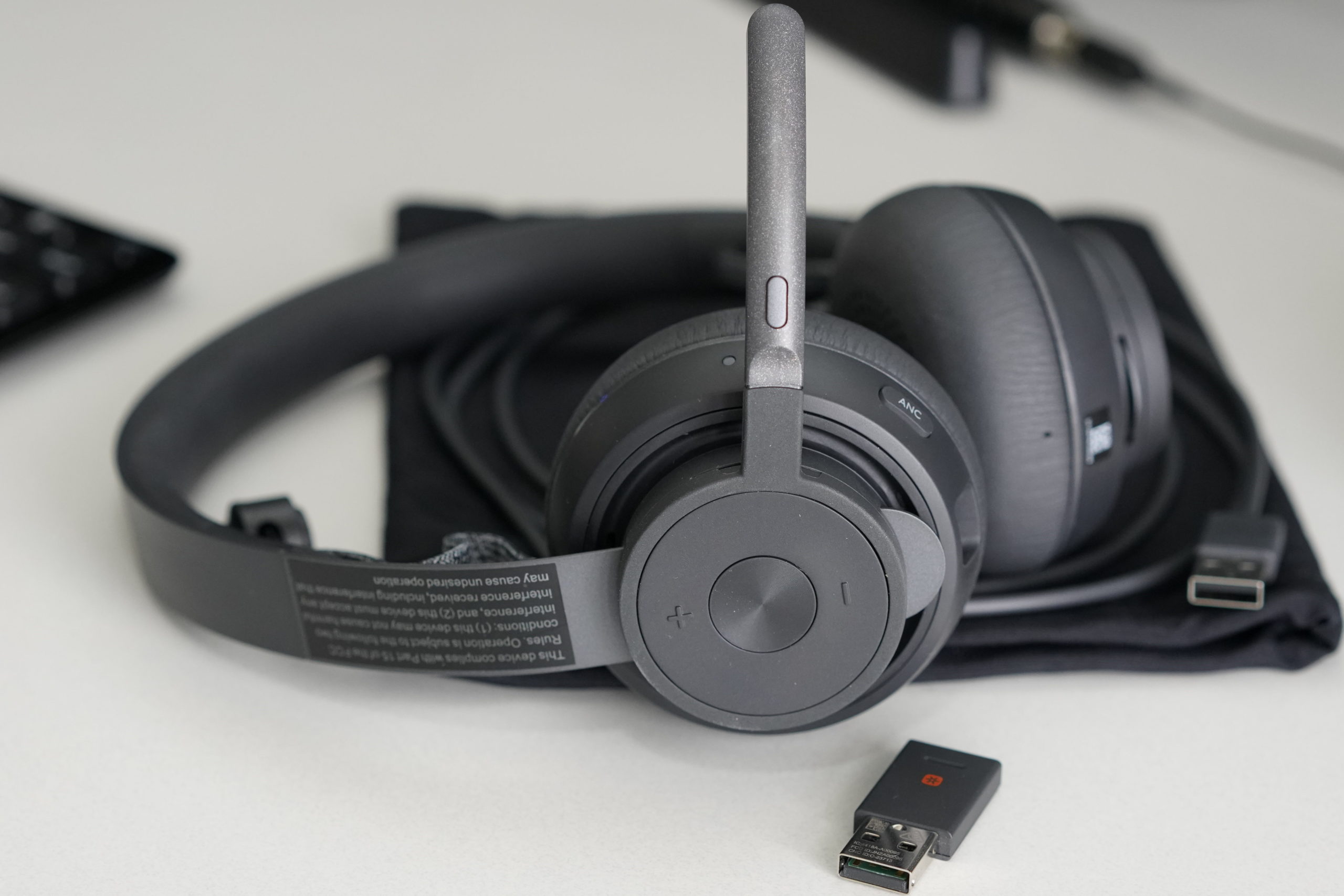 Connectivity
Logitech Zone wired headset is USB-C, making it compatible with most new PCs, laptops, and even many new cell phones. This is a welcome feature since USB-C is becoming more commonplace. The headset also comes with USB-A to USB-C connector in-case your device doesn't have USB-C port.
Logitech Zone wireless headset came with USB-A version of Logitech Unifying Receiver that is paired with headset out of the box. If you have other Logitech Unifying wireless products including compatible keyboard or mouse from Logitech, this is a welcome feature that helps control device sprawl that takes up multiple USB ports on your device (especially newer laptops that has limited USB ports to start with).
While the wireless headset I received didn't come with USB-C to USB-A adapter, Logitech now ships the adapter so that you can connect it to USB-C port, just like the Zone wired headset.
It's also good to see that the Zone wireless headset can simultaneously connect with your phone using Bluetooth, which Zone wired headset lacks.
The Zone wireless headset it also compatible with wireless Qi charging, though it doesn't ship with a wireless charger.
Call quality and Noise Cancelling
One of the benefits of both Zones wired and wireless headphones is, they both offer a premium microphone optimized for use in an open office. This offers the best possible performance for use in noisy environments or open offices where nearby sounds or voices are present.
This was a primary requirement for me as I wanted to make sure my calls are crisp and distraction free.
To test the sound isolation and voice quality, I simultaneously recorded audio from my built-in microphone, microphone on Logitech Brio webcam, My daily drivers Sennheiser MB 660 MS (superseded by EPOS Adapt 660), Zone wired and Zone wireless. I also alternated between an episode of TedX and some music on speakers in the background (from home theater system) simulating office environment noise or general background noise.
I was impressed with how the mics separated my voice from the background noise very cleanly! While my Sennheiser MB 660 MS have set a remarkably high bar in call quality, Zone wired and wireless came very close!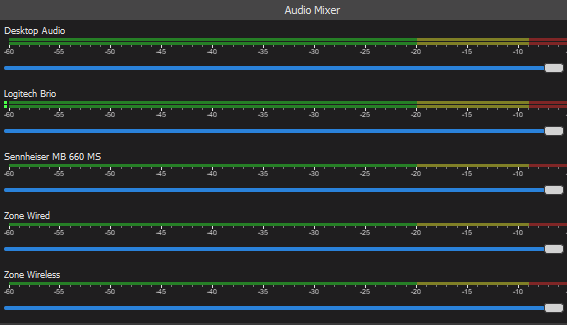 Both Zone wired and wireless headphones feature Active Noise Cancelling. ANC can help you isolate the noise around you so that you aren't distracted by them. This is different from the mic isolation for what people on other end of the call hear. ANC is great when you want to focus on your work even when there is no ongoing conversation or a call. Logitech has done a great job with their ANC implementation on both headsets!
Music Quality
While music quality wasn't my primary goal when testing these headsets, neither it is a primary target for the device, it holds up its own against many headphones I have used in the past.
In my testing, mids and highs sounded good, but bass was a little muddy making music sound a little subdued. I didn't try messing with EQ in Logi Tune, so it is possible that this can be addressed and isn't a huge negative.
Call Control and other features
Inline controls for the Zone wired headset allows you to answer incoming call or hang-up ongoing call, mute/unmute your microphone, play/pause music when not on a call, and control volume.
If you have a scheduled meeting in Microsoft Teams, the answer button also doubles as a join button allowing you to quickly join the Teams meeting. If no meeting is scheduled, the button launches Microsoft Teams interface instead.
Zone wireless features similar controls right on the headset.
Both Zone wired and wireless headsets feature flip-to-mute, allowing you to mute ongoing call by simply moving up the mic boom.
Logitech offers Logi Tune application for both mobile and desktop. Logi Tune allows you to update firmware on the headsets as well as control EQ, sidetone (ANC) control, and mic gain control.
In Conclusion
I'm impressed with call quality, crisp voice of the speaker on conference calls, and great build quality. Unifying Adapter is a great plus for Logitech keyboard and mouse users. UBS-C connectivity is welcome as it's becoming more commonplace.
I feel that Zone wired headset's lack of Bluetooth connectivity for cell phone in Zone wired is a miss on Logitech's part since most competing wired headsets offer that convenience.
Overall, it's a great addition to Logitech's Microsoft Teams certified portfolio and hits its mark for business users.