LoadMaster firmware 7.0-4 just became generally available from KEMP Technologies. For those who aren't aware, LoadMaster is load balancing and application delivery controller product from KEMP Technologies.
I in particular am very excited about this release for a few reasons:
Edge Security Pack: This firmware is first release of

Edge Security Pack

(ESP) that we announced late last year. It brings numerous features from TMG really focused and relevant to Load Balancing functionality we provide. Think Pre-Authentication, Single Sign On across virtual services and so on. To add to it, it is my first achievement at KEMP which makes it even better!

J

ESP will be available to all Virtual LoadMasters. On physical LoadMaster products, ESP version will only run on LM2600/LM3600 and LM5300. It will not run on LM2200 due to hardware dependency. If you are considering newest offering LoadMaster R320, you are covered.

Sub-VS support: This is my personal favorite. It brings very powerful functionality to LoadMaster family. More details are covered later in this post.

Want to share single IP for multiple services (Exchange/Lync/other websites)? No problem.

Want to have multiple health checks per virtual service (OWA/ECP/EAS etc.)? You got it.

Graphical Metrics on home page: How many times did you really wish you had ability to quickly glance at how your load balancer was doing? We now have graphs on home page! This allows you to quickly look at network interface usage, virtual service usage and real server usage. Not only that you can take a look at current usage, it allows you to look at historical usage as well so you can look at usage patterns and for growing environments, it helps determine if you are approaching capacity. Here's what it looks like: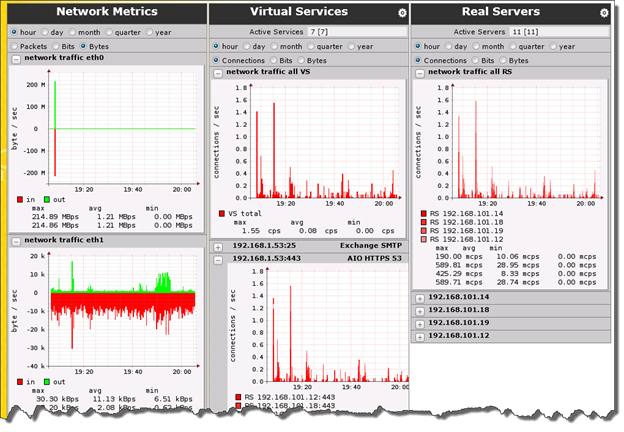 Sub-VS support

Like I mentioned earlier, Sub-VS is a feature that allows you to create Virtual services that are essentially nested. This of it this way. You have one IP public address. You want to use that IP address for all your virtual services such as Exchange, Lync, your public website and so on. To quickly visualize, here's what it looks like: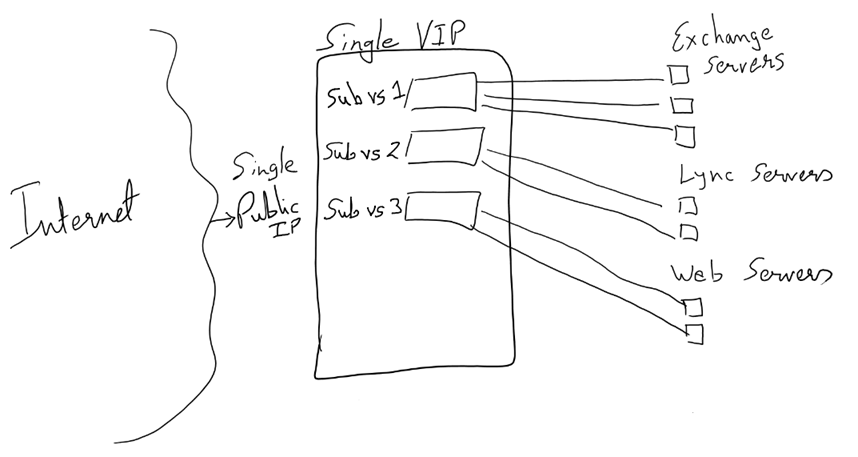 This is exact replica of what I have running in my lab, which is at my home, with limited static IP addresses available from my ISP. As you can imagine, I can't afford to create multiple virtual services (VS) to cater to each workload I need to publish. So what are my options? With Sub-VS functionality, I can create single VS which will listen on single public IP and given port (assume tcp/443 in this case). Now I can have multiple DNS entries in public DNS, e.g. mail.domain.com, lync.domain.com and www.domain.com which all points to single public IP. Now I can create one subvs for each workload. Each subvs can have it's own persistence, affinity and healthcheck settings. Each subvs can have separate set of real servers behind it. All my demo clients, Outlook Anywhere, Lync 2013, browsers visiting my test website can all get their relevant content, without me scrambling for multiple IP addresses! I will provide step-by-step setup in future posts.
There are certainly more features and bug fixes that are part of this release and I can't possibly cover them all here. My colleague Iain has posted great details here.
If you are interested in checking out Exchange 2013 setup using ESP, Exchange MVP Jaap Wesselius has published a blog post here.
Hope you find this helpful. Feedback welcome.